Classic American steakhouse with modern touches of Southern California's Asian and Latin American influences
The classic American steakhouse is redefined at EST. Prime Steakhouse. Here, traditional favorites meet Southern California's Asian and Latin American influences. Our chefs are dedicating to sourcing the finest local, organic and sustainable ingredients to create a world-class dining experience in the heart of the San Gabriel Valley. From the 35-day dry aged Kansas City steak paired with Salvadorian Chiltepe Chimichurri sauce to the Japanese Kobe beef filet to the luxurious Ultimate Seafood Tower, every dish invites guests to reimagine what they expect from a steakhouse.
Hours
Dinner
5:30PM - 10:00PM
Special Event: Father's Day
June 15-17, 2018 | 5:30 - 10:00pm
$85++/person
Join us for our Father's Day Weekend Special at EST. Prime Steakhouse. Enjoy a three-course meal featuring our signature dry-aged KC Steak.
Meet Executive Chef Joseph Mills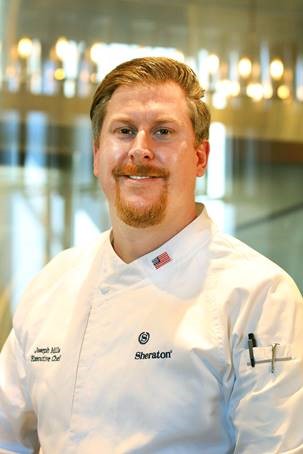 EST. Prime Steakhouse is proud to welcome a familiar face to the incredibly diverse Los Angeles culinary scene, adding Joseph Mills as Executive Chef. Most recently as Executive Chef of Westin Bonaventure, Joseph brings a focus in creating modern menus, sourcing local ingredients, and southern California-style cooking to the food and beverage programs at Sheraton Los Angeles San Gabriel.
Joseph's past experience includes leading the highly respected kitchens at Millennium Biltmore Hotel Los Angeles and Westin Bonaventure. The Sheraton Los Angeles San Gabriel will be Joseph's first opportunity to build a team, menus, and concepts from the ground up. Over the years, Joseph has implemented modernized banquet and wedding menus, opened a brassiere specializing in Chinese cuisine, and rebranded the concept of Hyatt Regency Westlake's Harvest Kitchen-Bar to utilize produce grown from the chef's on-premise garden.
"Living in Southern California makes it easy for a chef to be creative when there's such an abundance of great produce, meat and fish within a short distance," Joseph said. "We source from farms in rural areas throughout the California coast that sell specialty produce exclusively to restaurants. When our guests dine in our establishments, they will recognize the quality and integrity of the ingredients we use from the local California farms noted on the menu."